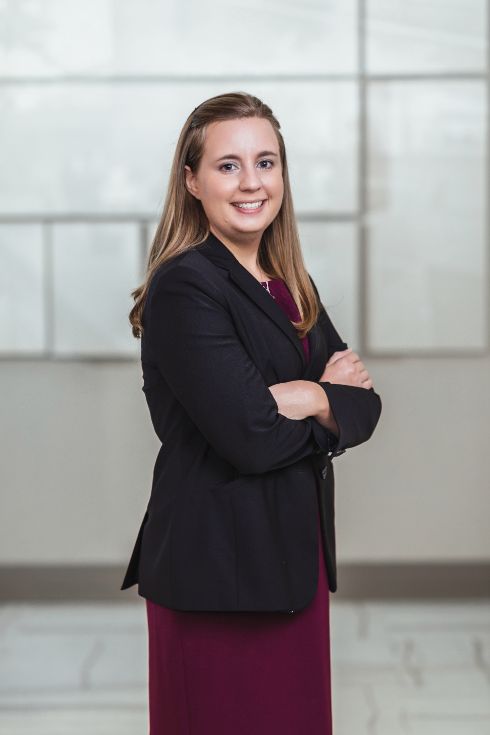 Jena is an Associate in the general liability practice group of Copeland, Stair, Valz, & Lovell's Atlanta office. She represents clients in automobile and motor carrier accidents, insurance coverage issues, and premises liability matters. Prior to joining Copeland, Stair, Valz & Lovell, Jena practiced at an Atlanta-area civil litigation firm. While there, she defended clients in insurance coverage and general liability cases. She has tried cases solo in Superior Court and Magistrate Court.
Jena is an active member of the Young Lawyers Division of the State Bar of Georgia, serving on the Board of Directors and as a representative of the Northern District of Georgia on the YLD Representative Council. She is a graduate of the 2020 YLD Leadership Academy and has written numerous articles for The YLD Review. She received the 2020-2021 YLD Achievement Award for Service to the Public and the 2019-2020 YLD Achievement Award for Service to the Profession. Jena is also active in the Atlanta Bar Association as the Chair of the CLE Board of Trustees, an Editorial Board Member of The Atlanta Lawyer, and a Member-at-Large of the Board of the Atlanta Council of Younger Lawyers. In addition, she is an Associate Editor on the TYL Editorial Board with the Young Lawyers Division of the American Bar Association. Jena is also on leadership at Brookhaven Presbyterian Church.
Jena earned her Juris Doctor from the University of Georgia School of Law where she was the Submissions Editor of the Georgia Journal of International and Comparative Law as well as an author of numerous publications. After graduating from law school, she was a fellow for Judge William ("Billy") Ray, II at the Georgia Court of Appeals. She graduated magna cum laude from the University of South Carolina with a double major in Economics and Global Supply Chain and Operations Management with a minor in Music. While in college, Jena studied abroad at United States International University in Nairobi, Kenya.